Give Me a Call 502-349-3204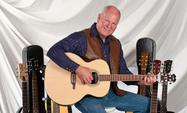 Thanks for visiting my site! In these pages you'll find out more about who I am and why music, history and entertainment are so important to me. You'll also find opportunities to enhance your event, whether it's corporate, historical or educational.

Shows like "A Nation Once More," or "WWII: A Survivor's Story" are making a big impression! Whether it's Civil War or WWII these shows have been praised by educators, entertainment organizers, and history experts everywhere!

If it's entertainment for your corporate, community or club event you'll find something here as well. So look inside and let me know how I can help you! I look forward to meeting you!